On February 27, our friends Rebecca, Anabel, Markace and Kelsey, representing SAACS, performed some demos for Future Tech. Future Tech is an event held at Georgia Tech for Atlanta middle school students to promote STEM fields with informational sessions and interactive demonstrations (among which are our awesome demos!).
The demos performed were:
Electroplating pennies (coating pennies with zinc then heating to form brass that look like "gold pennies")
Making sodium alginate calcium chloride "bubbles"
Hydrophobic sand
Universal indicator with NaOH and dry ice for multiple color changes as the pH becomes more acidic
Here are some pictures taken from this event: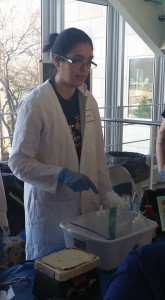 Because dry ice makes everything so much more DRAMATIC.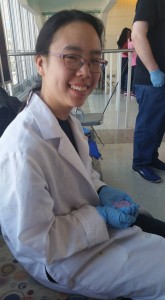 Chemistry is fun. Chemistry makes people happy.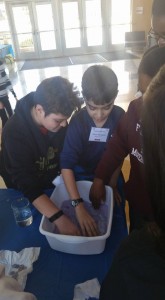 Some young people, seen to be enthusiastic and eager to learn, not yet tainted by the apathy associated with college life.